March 24, 2019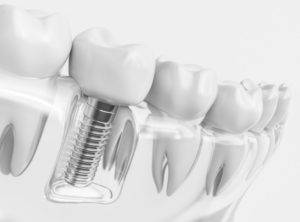 You made a sound choice in restoring your lost teeth by investing in dental implants. After years of hiding your incomplete smile, you're ready to start showing off your new teeth. Your current dental implants in Richmond, TX will give you the confidence you need to feel comfortable and enjoy social situations again. But more than anything else, you're worried about protecting your new priceless smile. Even though your new teeth don't require much special care, there are things you can do to prevent unnecessary wear-and-tear and keep them in tip-top shape. Read on to find out how you can best maintain your bright new smile so it lasts as long as possible.
How Do I Take Care of My Dental Implants?
Dental implants require almost identical daily care as your natural teeth. It's important to keep up with your regular oral hygiene routine of brushing twice a day and flossing to remove plaque and tartar buildup. Cleaning your new teeth after meals and paying special attention to each side of your implants while brushing is especially important.
Here are some useful items that can make your oral hygiene routine with implants much more effective:
Small soft-bristled or electric toothbrush.
Tartar-control toothpaste that isn't abrasive.
Antibacterial mouth rinse.
Plaque disclosing tablets to see if you missed any spots where food or plaque has accumulated.
Dental floss to help clean around the abutments. Using dental floss picks could be more effective since they are easy to maneuver.
Being committed to your daily oral health along with your regular dental checkups and cleanings is vital to making your implants last as long as possible. During your regular visit, your dentist will fully assess your new teeth. They'll ensure that everything is attached and functioning as it should be.
What Will Happen if I Don't Take Proper Care of My Dental Implants?
Similar to your natural teeth, without proper care, your implants can develop problems. One early sign of an oral health problem with your implants is bleeding, so if you experience this, bring it to your dentist's attention immediately. If left unchecked, oral health problems with implants can result in other issues like severe bone loss and gum disease.
Even though implants were able to give you a second chance at a full smile, they're not indestructible. Help reduce your risk of developing oral health issues by maintaining them properly so you can enjoy your brand-new teeth for a long time.
About the Author
Dr. Hoa Vongsengdeuane offers her patients special experience in placing and restoring implants. She is dedicated to researching and practicing the most up-to-date dental advancements so she can best serve her patients. At VL Dental, Dr. Vong offers single, multiple, and all teeth dental implant reconstruction. For any questions or to schedule an appointment, visit her website or contact the office at 281-239-7200.
Comments Off

on Get Ready To Start Enjoying Your Dental Implants in Richmond, TX
No Comments
No comments yet.
RSS feed for comments on this post.
Sorry, the comment form is closed at this time.