May 28, 2019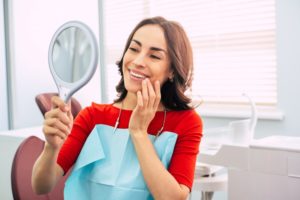 You've recently decided to replace your missing teeth and are considering your choices. You like how dental implants are permanent, unlike dentures, and have been told that they're a more discreet option. However, you're still unsure how noticeable your dental implants will be. All you want is it to look and feel like you have natural teeth again.
Are you worried that dental implants sound too good to be true? In this post, you'll be able to put aside your doubts and smile easy with your new dental implants.
What exactly are dental implants?
Dental implants are like artificial tooth roots. There are three different parts involved in the procedure: the implant, an abutment and a restoration (which replaces the missing teeth). Implants and abutments are shaped similarly to screws and placed inside of your jawbone, where the implant bonds with your natural bone. Dental implants act as a sturdy base for the restoration, and the two are connected by the abutment.
Dental implants are usually made of titanium, which helps your body accept it as an organic object. Unlike dentures, implants do not affect your mouth's sense of touch and taste. This means that you're able to enjoy your favorite foods without having to change the way you eat.
Can other people tell if I have implants?
Dental implants are designed to look and feel completely natural. Your dentist in Richmond, Texas, will match the color and shape of the implanted crown to your remaining teeth. This allows it to seamlessly blend in next to your regular teeth. Because they are placed within your jawbone, the metal implant and abutment are completely hidden.
Do implants feel natural?
The main difference between a dental implant and natural tooth is the existence of nerves. Present in regular teeth, they allow sensations such as heat, cold and pressure. With a dental implant, you will lack nerves, so these sensations are missing. However, the surrounding gum tissue is still able to perceive these feelings.
Besides this sensory dependency on the neighboring gums, a dental implant functions exactly as a regular tooth, and you will never taste the metal of the implant. After your body becomes accustomed to the implant, it often feels so natural that you aren't aware of its presence.
Dental implants are a comfortable, permanent way to address your missing teeth. You can once again enjoy a full smile without having to change your lifestyle or suffer from changes in appearance. If you have further questions about the effect dental implants can have on your life, reach out to your dentist.
About the Author
At VL Dental, Dr. Vong is passionate about making a positive difference in the lives of her patients, starting with their smiles. A graduate of the University of Texas School of Dentistry, she has committed numerous hours in continuing education courses to further improve herself and her practice. Dr. Vong has extensive experience in placing and restoring dental implants. If you have further questions about how to restore your missing teeth, she can be reached through her website or at 281-239-7200.
Comments Off

on Enjoy Natural-Looking Dental Implants in Richmond, Texas
No Comments
No comments yet.
RSS feed for comments on this post.
Sorry, the comment form is closed at this time.