Emergency Dentist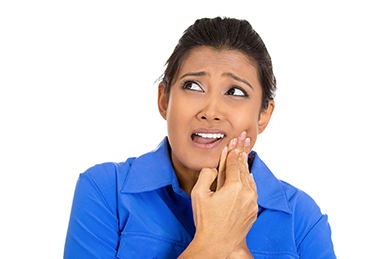 When a dental emergency strikes, the last thing you want to be doing is looking for a dental practice that can help you. You should know who you can turn to in advance so that when an emergency occurs, you can spring into action right away. Richmond, TX emergency dentist, Dr. Vong is proud to offer timely care for a range of common dental injury issues. Our dentistry team is dedicated to enhancing the lives of our patients by providing the highest level of care. That is why, when you need us most, we will be here to help.
Some of the most common dental issues include:
Knocked Out Tooth
In cases where your tooth has been knocked out, rinse it gently under water and try to put the tooth back into its socket. If you're not able to hold it in its original socket, store it in a baggie of milk and bring it to our office with you. During your appointment, we'll determine whether reattachment is still possible.
Broken or Cracked Tooth
Rinse the cracked or broken tooth with water immediately and apply a cold compress to the affected area. This will help you reduce swelling until we can see you for treatment.
Severe Toothache
Rinse and floss around the tooth that's causing your toothache. If your pain persists, call our office for an appointment. An over-the-counter pain reliever like Tylenol or Advil will help you treat your discomfort in the meantime. Don't place an aspirin directly on your tooth as this can damage your sensitive gum tissue.
Something Caught between Teeth
Often, using just a little bit of floss is enough to remove debris caught between your teeth. But if you still have something caught between your teeth, after flossing, and it's causing you discomfort, call our Richmond office for help.
Contact Us to Learn More
Are you experiencing any of the emergencies above? Call VL Dental today to speak with one of our team members. We offer emergency dental care to patients from Richmond, Pecan Grove, Sugar Land, Rosenberg, Crabb, Booth, and beyond.
Dental Emergency FAQs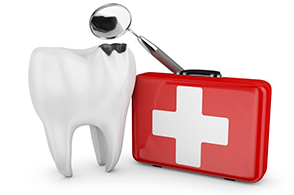 Now that you know a little about how to handle basic dental emergencies, you probably have some more specific questions about emergency treatment. Not to worry, your emergency dentist in Richmond is here with the answers to some of the questions we get asked the most often during urgent dental situations. If you have a question that you don't see answered below, feel free to contact us and ask away. We'll be more than happy to provide you with an answer and get you out of pain fast!
Will My Insurance Cover Dental Emergencies?
This depends on several factors, such as your individual insurance plan and the type of emergency you're experiencing. For example, your insurance is very likely to cover a simple prescription of antibiotics to treat a tooth or gum infection. On the other hand, they will probably only cover a portion of restorative treatments like fillings, extractions, or tooth replacements. However, no matter how worried you are about the cost, nothing could be worse for you than putting off the emergency treatment you need. Dental health issues only get worse the longer you ignore them, resulting in higher costs down the road. Our friendly team will work with you to maximize your insurance benefits and lower your out of pocket costs as much as we can.
How Can I Prevent Dental Emergencies?
While no dental emergency is 100% preventable, there are some steps you can take to minimize their chances of occurring. The easiest way is to visit our office for regular checkups and cleanings twice a year. At these biannual appointments, we can check for signs of cavities, gum disease, weakened teeth, and other problems that could lead to a dental emergency in the future. While you're here, invest in a custom-made mouthguard to wear during sports. This will significantly lessen the chances of damaging your teeth during physical activity. Lastly, avoid chewing on hard objects like ice or hard candies and using your teeth as tools to open stubborn packaging. These habits can cause painful cracks in your teeth.
Will I Need a Root Canal?
Root canals are one of the most common treatments for severe toothaches. However, you'll have to come see your emergency dentist near Pecan Grove for an evaluation to see if one is necessary. Root canal therapy entails Dr. Vong accessing the center of your tooth and removing the infected portion and the nerve to relieve your pain. The inner chamber is then sealed off, preventing re-infection down the road. Finally, the tooth is topped with a filling or dental crown to restore it back to its original function. While the procedure has a scary reputation, getting a root canal actually alleviates your toothache and saves your tooth from needing to be extracted.
Will I Need a Tooth Extraction?
Although our team at VL Dental will do everything in our power to ensure that you keep your natural teeth for as long as possible, sometimes tooth extractions are required to preserve your oral health. This is common in the case of a tooth that has been severely damaged by trauma or too decayed for even root canal therapy to save it. Sometimes the wisdom teeth must be removed because there is simply not enough room in the mouth to accommodate them. Whatever the case may be, Dr. Vong and the rest of our team will determine what the best option is for you to keep your teeth for as long as possible.