March 16, 2020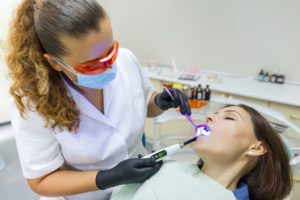 Your oral health relies on more than just your toothbrush and floss. You should also see your dentist at least twice a year for a cleaning and checkup. Unfortunately, one-third of adults don't get the care they need. While there are various reasons someone might delay their appointments, many people don't see their dentist because they suffer from dental-related phobias. Without routine care, you significantly increase your risk of common dental issues, like tooth decay and gum disease, but that's not the only concern. Your oral health also influences your general health. Don't worry, if going to the dentist makes you uncomfortable, you don't need to avoid your appointments. You can invest in a healthy mouth and body with the help of your sedation dentist.
Mouth and Body Connection
Your mouth is often referred to as the gateway to your general health. If your teeth are compromised or missing, it can affect your quality of life in several areas, like your ability to maintain a balanced diet. Your gum health is equally important. The biggest threat to your gums is a preventable infection call periodontal (gum disease). Not only is it a leading cause of tooth loss, but it also increases your risk of several health issues, like cardiovascular disease.
Routine dental care prevents common problems from occurring, like tooth decay and gum disease; however, if you fear the dentist, you might delay your semi-annual visits. Worse yet, you might have dental issues but aren't getting them treated. There's no need to put your oral or general health at risk. Your sedation dentist will help you sit back and relax.
Conquer Your Dental Phobias
If you haven dental-related phobias, you're not alone. Research shows as much as 15% have the same apprehensions. Your sedation dentist can conquer your dental fears using a solution that best meets your needs:
Nitrous Oxide: Better known as "laughing gas," the inhaled sedative is ideal for mild-to-moderate dental anxieties in patients who need noninvasive treatments, like a routine cleaning and checkup. You will reach a high level of relaxation to the point you may fall asleep, but you'll remain conscious and can be awakened easily without any lingering side effects.
Oral Conscious: A prescribed medication is taken before your appointment to provide a stress-free visit. You won't be aware of the sights, sounds, or smells of the dental office. In fact, you might not even remember your visit. It can take a few hours for the effects to dissipate, so you'll need someone to drive you home.
Sit Back and Relax
Don't delay getting the care you need for a healthy mouth and body. Your sedation dentist can help you keep your oral health a priority using a personalized treatment plan.
About Dr. Hoa Vongsengdeuane
Dr. Vong is passionate about creating healthy smiles in the community. Supported by extensive qualifications and training, she offers several specialty services, like sedation. If you need a little extra help relaxing during your visit, contact our office today to discuss sedation dentistry.
Comments Off

on Achieve a Healthy Smile with Your Sedation Dentist
No Comments
No comments yet.
RSS feed for comments on this post.
Sorry, the comment form is closed at this time.